Your Instructor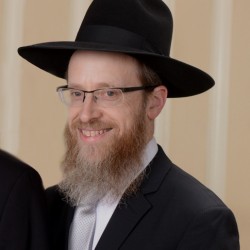 Rabbi Leibie Landsman is a talmid of Rav Shmuel Alexander Unsdorfer zt"l of Montreal and Petach Tikva (2002).
He is also a talmid of Rav Mordechai Weinberg zt"l, Rosh Yeshivah, Yeshiva Gedola – Merkaz Hatorah, Ateres Mordechai Hatorah of Montreal. He received his Rabbinic ordination from Rav Weinberg zt"l.
He studied in Mir Yerushalayim by Horav Aryeh Finkel zt"l and by Horav Nochum Pertzovitz zt"l. He continued his studies in Yeshivas Brisk by יבלחט"א, Horav Meshulam Dovid Soloveitchik shlit"a. Currently, he's a senior member of Kollel Avreichim, Detroit, in Oak Park Michigan. In his tenure, Rabbi Landsman has organized many programs for the Kollel including an Adult, Gemora, skill-building program on various levels. He also currently serves as Rosh Chabura for the Kollel's Mechanchim Chabura. Additionally, Rabbi Landsman gives a daily Amud Yomi shiur at the Kollel as well as regularly delivering the Daf Yomi shiur at the local Young Israel, in Southfield Michigan. He recently edited a newly published Hebrew/English version of Shaarei Avodah from Rabbeinu Yonah. He also republished and annotated parts of the Sefer Beis Shlomo (published in 1927) from Horav Nosson Shlomo Kotler zt"l which is a collection of chiddushim that were said on the Siyum of Mesechtos throughout Shas.
Aside from his Kollel activities, Rabbi Landsman has been an integral part of the Pirchei Shoshanim staff. He authored the shiurim on Orach Chaim as well as The Roadmap to Prayer. He also edited the Kosher Kitchen and is currently actively managing the Shabbos Chabura, Aveilus and others.
Frequently Asked Questions
When does the course start and finish?
The course starts now and never ends! It is a completely self-paced online course - you decide when you start and when you finish.
How long do I have access to the course?
How does lifetime access sound? After enrolling, you have unlimited access to this course for as long as you like - across any and all devices you own.